Looking for a conveniently located scrap metal yard in Melbourne that accepts a wide range of metal types, from steel and cast iron right through to aluminium, copper, brass and everything in between? Get rid of your unwanted scrap metals at Best Way Scrap Metal in Kilsyth. We can collect almost any type of metal at our scrap metal yard and make certain that it is reused or recycled in an environmentally friendly way.
We pay good money for everything from depleted batteries and whitegoods to dilapidated machinery and farming equipment – including money for aluminium in Melbourne. To ensure the satisfaction of our clients, we offer generous prices. Get a quote from us at our scrap yard today to discover just how much you could receive for your unwanted materials!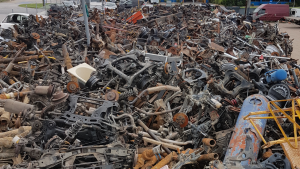 Offering Total Flexibility and Convenience
At Best Way Scrap Metal, we aim to provide each and every client with services that offer the best in flexibility and convenience. As professional scrap metal dealers in Melbourne, we have all the necessary resources to provide prompt pick up of almost any type of scrap metal, including bulky or large quantities such as whitegoods and trucks. Alternatively, we also accept drop offs at our scrap yard in Melbourne. Whether you need payment for batteries or money for aluminium scrap, you can rely on us to deliver a prompt and efficient service.
Discover How We Can Help You
To learn more about our scrap metal yard in Melbourne, or to obtain an accurate quote for the price of your unwanted metal products, get in touch with our friendly team today. Our honesty and reliability ensure we can be trusted to provide you with the very best price. Simply give us a call on (03) 9728 4074 at our scrap metal yard, or send an email to info@bestwaymetal.com.au.